About Us
XPS Foam is the only UK manufacturer of XPS underlay. Based in North Wales we produce our Extruded Polystyrene Underlay "XPS" from fully recycled materials.
Using the very latest technology in extrusion, thermoforming and recycling processes we are able to offer our customers innovative new products suitable for use with today's floor coverings, all whilst keeping the installation simple. Our portfolio encompasses a range of products suitable for use with wood, engineered, vinyl and laminate flooring, in various depths, colours, formats and foiling capabilities.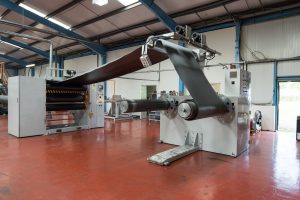 We can offer own branding, unique pack dimensions and other incentives to suit each individual customer's needs, including shipping to our customers with bespoke delivery solutions whether its UK road freight or 40ft containers for export.
We have a manufacturing capacity to supply in excess of 10 million square metres of underlay products annually. Our customer base includes large retailers and flooring distributors both in the UK and Europe.
XPS Foam is part of the QEP Group. QEP is the global leader in tiling and flooring installation tools and equipment. Operating and present in over 70 countries worldwide, supported by its dedicated customer service team, warehouse facilities and supply services.